IMAGE MAKER Variable Action Acid

Image MakerVariable Action Acid Perm creates firm, long-lasting, beautifully conditioned curls, even on multi-porosity hair. Leaves hair healthy-looking and manageable.

FEATURES:
Advanced Waving Lotion - Self-adjusts to ensure dependable results - even on multi-porosity hair. One processing time for tinted and highlighted hair.
Fixed Timing - Eliminates any chance of over or under processing. Cationic Conditioners - Keep hair in optimal, more manageable condition.
Pleasant Fragrance - Leaves hair smelling fresh.
No Test Curl
No Dryer Needed
Only True Cystem BLACK BOX available.
Requires heat to process.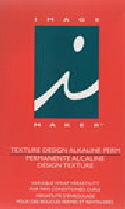 IMAGE MAKER Alkaline

Image Maker Texture Design Alkaline Perm
One Formula for Normal, Resistant and Tinted Hair

Variable Action Wave for Firm Conditioned Curls.
Water Wrap for soft conditioned Curl
Lotion Wrap for Firmer Curls with Texture
3961 106th Street
Des Moines, IA 50322

(800)247-1660
(515)276-4700
Barber
Equipment

Leading Supplier of Quality
Beauty Supplies and Equipment
Salon Perms
Leading Supplier of Quality
Beauty Supplies and Equipment